OCI MUSEUM
<육감 六感, Sixth Sense> 展, 2015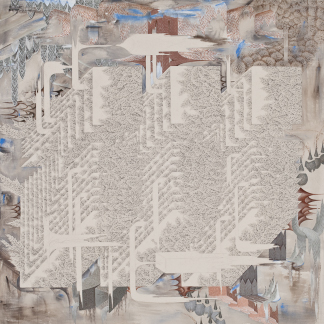 Vert of Walls II,130x130cm, Acrylic on unprimed canvas, 2012,Yun Kyung Jeong
Foreword
---
Since 2010, the OCI Museum of Art has been exhibiting the works of new artists through our OCI YOUNG CREATIVES program. Spanning from the flower-blooming spring to the sun-kissed summer, the relay exhibitions featuring works by talented young artists, under the age of 35, are by far the most important event at our museum throughout the entire year. Already, 37 artists have had their debut exhibition through this annual program. These artists become our best colleagues and collaborators; from the early stages of brainstorming new works, deciding display lay-outs and installing their works until late hours, the museum staff slowly establishes, with them, a rapport which eventually turns into a friendly relationship. The curators even joke around, saying that some of these artists stop by so often that they should have a space of their own in the office.

This supportive program for emerging artists began at the same time with the opening of the museum in order to encourage young artists who have more than enough passion and talent, yet suffer from lack of financial means and public opportunity. Thus far, the OCI YOUNG CREATIVES only features artists who have yet to have a large-scale solo exhibition, yet who show potential to make a remarkable impact on the Korean contemporary art scene in the near future. As a private institution with public responsibility, the OCI Museum of Art believes that the YOUNG CREATIVES program will not only support these 'diamonds in the rough,' but also serve the general public by presenting the outlook on the direction of the next generation of contemporary art. For this reason, we select new sets of artists each year through three stages of evaluation by prominent professionals as invited advising members. The selection is never based on a specific genre or a subject; we strive to focus solely on the future potentials in the field of visual art.

The Sixth Sense exhibition celebrates the fifth anniversary of the opening of the OCI Museum of Art. More importantly, however, the exhibition showcases new works of the OCI YOUNG CREATIVES alumni artists who have had their debut shows here between 2010 and 2014. It will not only demonstrate how these individual artists have matured over the years, but also present an interesting overview of dynamic changes that Korean contemporary art has gone through. It is of course impossible to put all these artists' original perspectives and captivating outputs in a nutshell. However, I am certain that their passion and will to tell stories that they are interest in – from an individual's personal preoccupation to the common concerns of the entire world – will not only push the boundaries of contemporary art, but also guide us in understanding present situations and forecasting the future of the world we live in.

The OCI YOUNG CREATIVES program is not provisional, but persistent in its support of the artists and this exhibition is one of our many efforts. I hope that this exhibition demonstrates the young energy of Korea's contemporary art through these diverse works by creative individuals. Lastly, I would like to thank all the artists and staff members who have worked so hard to put this exhibition together.
Lee, Jeehyun (Deputy Director)
OCI Young Creatives 5th Anniversary Exhibition
The Sixth Sense
---
Thirty six artists have once again gathered here to reveal their art worlds without reluctance. These artists, who unveiled their artistic personality at their debut exhibitions, have continued their profound and sensuous creative activities, seeking growth and alteration in their themes and methodologies. They have explored and drawn a wide spectrum of themes. These artists have addressed diverse issues of our time such as everyday life, landscape, desire, gender, city, society, memory, dream, geology, and animals alongside their exploration of humans with various media including painting, three-dimensional work, installation, photography, and video. Among such diverse subjects and methods, one thing the artists are commonly dependent on is a keen, intuitive sense with which they capture aspects of life in contemporary society.

The six sense, referred to as intuition or inspiration, is not for all to retain. The sixth sense can be defined merely as an irrational momentary sense, but it can also be seen as the fruit of the senses that can be obtained whenpersistent observations and multilayered experiences stemming from the diverse processes of the five senses are integrated into our profound unconscious world. The 36 artists grasp and disclose multifarious facets of our lives through their supersensible ability and pertinacious, bottomless introspection. Their works of great diversity are on display under six categories at the exhibition. As well as the sixth sense, the exhibition title also refers to "six feelings" and "six stories" about life.

On show in Part 1 are familiar aspects of life and three topics addressing our inner world. In the section Everyday life, soaring everyday life, we can find works in which distinctive ideas about familiar places and repetitive actions stand out. We can appreciate significant and insignificant meanings innate in our ordinary daily lives. The section entitled The weird world conveys narratives on our unconstrained imagination. In this part, the artists involved represent dreams, hopes, and suppressed ideas dormant in our inner world through fantastic and surrealistic works of light and color. The section The moment of desire gives a glimpse into humanity's clandestine desire for sex and consumption. Works on display here, disclosing the desire anchored in human nature, ultimately lead viewers to the contemplation of existence.

On show in Part 2 are another three topics on artists' interests in an external world. The section entitled Mutated landscapes presents landscape paintings of our time by artists who have altered natural scenery, reflecting their psychological state, multilayered ways of appropriation, and their unique views of nature. The section calledHouse, space, and shadow pertains to the space where we stay and explores the underlying meaning of a house that is a haven for body and soul. This section examines works by artists who have searched for homes and urban spaces for their distinctive modeling idioms and addressed issues of alienation and anxiety in contemporary society. The sixth section, titled The world we live in, exhibits works dealing with the world we inhabit.
Everyday life, soaring everyday life
Life is always unpredictable but our lives are repetitive: we go to familiar places and meet the same people every day. In this section, artists discover the hidden meaning in daily routines we often consider tedious. When we get bored with the process of our rat race lives, we sometimes imagine flying in the sky and looking down at aspects of our lives. "Soaring everyday life" is here a way of thinking in which artists have new insights into mundane scenes. In this section, we look back on daily places, things, and actions we rarely consider because they are always so close to us.

The ground we see and step on every day is in no way special, but Kang Dong-Ju considers it an indicator or a chronicler of daily life. She meditates on the import of life associated with repetition and change, encountering and passing through her pencil drawing series that delicately depicts tiny stains made by footsteps and chewing gum on the sidewalk. In her work, some subtle mixed feelings like joy and sorrow are represented in the form of a diary. Kim Hye-Na expresses everyday experiences and memories with restrained painting, disclosing her universal and unique sense through change in implicative lines and forms.

Insignificant and familiar things in our surroundings appear distinctive in three-dimensional works by Shin Jung-Phil and OH You Kyeong. Shin observes things that draw his attention in his surroundings and divides them into small units. He then makes the things with new material and reassembles them. He overturns the practice of our eyes, that is, a familiar view and reflects on the true nature of the mundane, creating things completely different from the originals. OH makes daily objects and new three-dimensional forms using A4 paper and paper cups. A ladder she made with tracing paper is a transparent object that has lost its function. With such objects, she explores the ambivalent value of everyday life, significance, familiarity and newness.

Yim Ju-Youn and Jeong Kyoung-Sim capture aspects of daily life such as putting on clothes in the morning, going somewhere, and returning home at night in their paintings. What are portrayed in Lee Je's paintings are moments of lonely or happy lives such as way to work in the early morning and a cart bar where a few groups of people chat. These artists arouse our universal sympathy with common elements of our everyday lives depicted in unintentional, momentary brushstrokes. Yim presents a simple action of putting on or taking off our clothes that reveals or conceals our existence. She encapsulates moments of time in her work, continuously shooting the physical action of putting on and taking off clothes and expressing it in paintings with swift brushwork. Eating is indispensable or perhaps in a sense the most important thing in daily life. Jeong has long explored the act of eating, daily desire, and human affection in her Dining Tableseries. People on a jam-packed bus eat something hard inSeasoned Bean Sprouts. In this work, she features the austere aspects of our lives in which we have to earn a living in harsh conditions.
The weird world
We have constantly meditated on the world of illusion and surrealism in the bondage of reality. Most humans are dominated by the principle of reality and do not have an unrestricted imagination. However, visual artists are able to represent psychological traumas, gloomy imaginations, ecstasies, or illusions that are far away from the "reality principle" of social norms and power relations. They represent and disclose their aspirations to oppose the suppression of reality through surrealistic expression. Although the artists present uncanny and unrealistic images, they rather clarify reality, reflecting diverse circumstances and structures stemming from reality.

The suffocating space of reality becomes a world of imagination in the works of Kim Chae-Won, Han Anna So Young, and Jung Hye-Ryun. Kim depicts cosmic scenes she pictures in her mind through complicated installation and videos wedding mundane objects and digital images. She presents a unique fantastic world where order and chaos blend into a tiny unit repeating modifications. However small the space may be, Han can detect its energy and subtle nuances. She creates a dramatic new space in installation work adopting subtle changes in light and color. Jung represents her "fantasy of an amusement park" from her childhood through installations. The artist expresses childhood dreams she has now forgotten due to social oppression in her own distinctive atypical three-dimensional installations, trying to amplify viewers' emotions.

Kim Eun-Hyung and Lee Ju-Ri's drawings and animations feature dreamy images with delicate and bizarre forms. Kim reels off his ideas on a wide range of themes pertaining to music, philosophy, and religion in the manner of Surrealist automatism, illustrating freely swimming imaginary and dreamy images in his drawing, three-dimensional paper work and animation. Lee creates an uncanny and gloomy world where bizarre figures and fragmentary bodies are scattered. Taking motifs from construction sites in reality, she builds up her own "land" that is a surrealistic space and comments on her clandestine dreams, unconscious, power, and suppression.
Na Kwang-Ho and Park Mi-Rae disclose their thirst for a primal world through their painting. Na concentrates on painting that transforms pure modelling elements secured from children's pictures in a variety of ways including a digital process that explores unpolished line, form, and color. Park depicts animal forms of great diversity in speedy potent paintings. She presents a world of new dreams with surrealistic forms arranged with animal images, thereby insinuating human elements through the world of animals where the strong prey upon the weak.
The moments of desire
Everyone has a human nature "to possess or enjoy something they feel is insufficient," i.e. desire. Desires such as our appetites for food and sex are indispensable elements for our survival and naturally create positive energy in our lives. Such natural desire, however, is at times overly stirred up in contemporary capitalistic society. Ads and commercials stimulating our eyes and prevailing materialism produces superficial ideas and excessive consumption, resulting in the commercialization of female sexuality and sexual appetite. In this section, artists display their introspection on desire, disclosing the plethora of its pathological aspects. They intend to reflect on themselves, revealing the faces of desire by which we are profoundly influenced but cannot realize this fact.
Our eyes referred to as the windows of our minds are changed by excessive consumption and addiction to consumption. Kim Ji-Min creates statues with the eyes containing the patterns of brand-name goods and luxury cars on the shining surfaces of ceramic faces, representing contemporary people preoccupied with desire and consumption. Kim Jin-Key's work showcases quite different aspects of such faces of human desire. Kim presents extremely abject scenes of desire using a technique of painting over the images with down flowing paints. Through the series featuring tables after dinner meetings and landfills, he plainly represents swirling emotion, conflict, and abject desire.
Human desire is also closely associated with the human body and sex. Jang Pa represents the loss, importance, and frustration immanent in human existence and the world in paintings featuring the bodies of naked desire. Jang reflects on the elemental issues of human existence in the Phantoms under Daylight series in which she represents life and desire with naked bodies and skeletons. Choi Young-Bin concentrates on paintings in which she depicts human bodies abstractly and modifies them fragmentally. Choi unveils his identity and hidden desires, portraying bodies distorted in her own way. YOU Hyeonkyeong focuses primarily on paintings concerning suppressed desire. She represents sensations such as shame, disgust, pity, and carefulnesswith images of faceless people, naked people, and forms associated with sexual behavior. Lee Mi-Jung explores the subjectivity an individual may have by representing socially taboo sex playfully, departing from social norms and standards.
Mutated landscapes
Landscapes in our surroundings are visible beyond the aspects of our everyday lives, imagination, and secret desires. We find unfamiliar scenes beyond our expectation to see familiar ones. Works on display in this section are landscape paintings of our time transformed by artists' unique ideas, moving beyond simply reproducing scenes found in our surroundings. The term "mutation" originally refers to change in an organism's shape and character. In this section, artists present landscapes by adopting diverse factors, considering natural beings that breathe and interact with us that are not simply objects for observation. They investigate the relationship between nature and man in contemporary society, symbolically represent humanity's alienation and wounds with sterile scenes, and unfurl a new world through conceptual imaginary nature.

Forests are a place that can be filled with an artist's diverse thoughts about life. Bin Woo-Hyuk's subtle, psychological forest scenes are a metonymy for painful wounds. He illustrates the forests, lakes, and the sky he observes while walking around his residence with charcoal or colors, leading viewers to share his pain and help heal their own wounds. Lee Hyun-Ho detects idioms and rhythms innate in landscapes through his persistent, sincere observations and contemplations, paying close attention to the common forest and its artifacts that we often unintentionally pass by. He arouses the true nature of dailiness, warning us about our insensible, dull perspectives of our surroundings.
Based on their distinctive view of nature, artists create new scenes by fusing their greatly diverse surroundings with their multilayered explorations of the spheres of man and nature in contemporary society. Jeong Yun-Kyung represents the coexistence of man with nature in paintings based on the Eastern view of nature referred to asgyeong(景). She embodies the images in which nature and culture as well as artifacts and organisms coexist through a natural absorption and symbolization of nature. By doing so she harmonizes natural images with artificial ones. Cho Tae-Gwang has consistently researched the relationship between nature and artificiality as well as natural and artificial perspectives, creating unusual nature scenes like forests with warm colors and patternized trees. He wishes to compose utopian settings which warn us about humanity's prospect to dominate nature through a depiction of primal nature with a potent life force where no humans exist. Hwang Ji-Yoon has brought fantastic scenes to life in images based on her imagination and experiences from her travels. She uses revamped techniques that have a basis in the ones used in landscape painting, folk painting, and Baroque style found in art history. She unfolds enigmatic landscapes full of a variety of symbols and overtones by lending unique factors like animals to familiar landscapes of trees, mountains, and rivers and by applying a dreamlike composition and color sense to her art.
House, space, and shadow
After passing through familiar yet unfamiliar surroundings, we are drawn to the idea of the space we inhabit. The site and space of life where our bodies and spirits find relaxation are threatened by family break-ups, rampant developments, and frequent movements. The house is a place in particular where one's identity and values are shaped and family relations are formed. It has meaning as a resting place but at times turns to a space fraught with anxieties and wounds. In this section we examine the multilayered meanings of the house, the most elemental space for human life, seeking the aspects of our lives in urban spaces and the psychological shadows cast upon them.
Due to rapidly changing urban spaces, we find ourselves constantly interested in the unique changes in such places and explored their topography, consistently posing a question about human life in such locations. Kim Hyo-Suk uses minute paintings to depict precarious urban architectural spaces that are constantly being reshaped. She depicts the human alienation present in contemporary urban spaces and the gloomy aspects of life that are buried in entangled architectural fragments. Cho Hye-Jin constructs models of high-rise apartments using ground glass and steel, steadily exploring urban reconstruction and living spaces. She has secured these materials from collapsed, deserted houses that were abandoned due to redevelopment projects. Her transparent architectural models paired with dim light hark back to human alienation and absence in a gloomy scene of the city whose surface is the only thing left. Soyoung Chung explores the creation of a city and the importance of architecture and how it is anchored to the principle of creation in nature. Based on her interest in earth science and geology, she includes the topographies, arrangements, and styles of cities she has observed in her installations composed of geological maps, miniature models showing changes in the earth, rock specimens, and topographic maps as well as photographs.
Psychological elements like our memories of a specific place are metaphorically expressed in works and our inner pain, joy, and diverse imaginations are at times visualized in space. Inspired by childhood memories of her house, Min Jin-Young visualizes these memories of the house and space in a three-dimensional work exploiting light. The artist represents multipronged meanings of house, space, and family, reminding us of the importance of the home as a shelter where our unconscious memories are accumulated. Lee Jee-Young presents inner emotions through stage sets. She orchestrates her "mind room" through an arrangement of symbolic colors, forms, and figures in stage sets made by hand. In her work Love Seek she gives form to feelings such as the joy of love, longing, and anxiety, representing ambivalent emotions like light and darkness as well as joy and sorrow through delicate, dramatic spaces.
The world we live in
We feel it is difficult to live in a contemporary society where even the space in which an individual stays is threatened. Moreover, we are led in a direction different from what we seek and are pressed by external elements like human relationships and political and social circumstances. As everyone lives in social systems and are thus connected to each other, our identities are consistently influenced and distorted by social and political situations, power, and the desires of others. In this sense, we cannot evade the process of examining the world around us. At times we live behind a mask, losing our original nature and values, and our individuality is often disregarded in bleak political circumstances. We also sometimes fear the situation in which we undergo disasters in society. In this section we meditate on the world around us where our individual values and desires are suppressed and explore the true value of ourselves.
According to Jacques Lacan's theory, as a child recognizes himself and the other through a mirror, his subjectivity is altered and revealed in an obvious way in relationships with multifarious others in society. His identity is at times influenced by a social situation that has been kept deep in his memories. Kang Sang-Woo brings forth political situations and interests from his old memories to the present context. Realizing that his gloomy memories about military dictatorship were reinforced by the political cartoons he read as a child, Kang humorously illustrates cartoon characters and content in two-dimensional and three-dimensional works. By doing so he evokes common memories through an individual's "insignificant memories," thereby making those living in the present look back on Korea's social and political situations. Nam Hye-Yeon depicts human beings and their emotions in video. She portrays the unnaturalness and difficulties an individual undergoes in an oppressive situation in which emotions and desires are suppressed by social demands and power relations. She symbolically represents such a situation with scenes of pouring water into a bottomless bucket and having a meal on an unstable chair. Han Seung-Ku represents contemporary people fettered by the desires of others with the "face as a mask," concealing their true selves. He researches the problems of self and illusion and reality through three-dimensional solid masks, exploring the relationship between individual and society and searching for the true self.

We are frustrated by, outraged at, become anxious about, or become intentionally indifferent to accidents and incidents that become known to us through news reports several times a day. Social events have a considerable impact on each individual's thoughts and life. Park Kyung-Jin maintains his focus on man-made disasters causing death and fear in our society. he depicts a variety of calamities caused by human error in his work where the images of actual incidents such as the blast of nuclear reactors, foot-and-mouth disease, and the sinking of the MV Sewol are mixed with imaginary fictions. With this, he reminds us of our fear of death, enabling us to consider our society that pays little attention to such calamities. Yang Yoo-Yun concentrates on painting addressing the themes of inner wounds and the sense of loss, visualizing them with the face in a state of panic, a wound with blood, and those pointing a gun. Yang's work is an ultimateintrospection of diverse social events and psychological traumas, leading viewers to contemplate on solitude and skepticism an individual undergoes in our contemporary society. Lee Woo-Sung has made constant comments about a sense of emptiness, anxiety, and hope stemming from the question, "How should we live?" in the reality young people face. In his works like The world that does not allow me to have dream, he expresses his grief as a young artist who has faced the sinking of MV Sewol and its victims, leading us to have our moments of introspection of the world where we live and our lives.
The six common topics, "everyday life," "surrealism," "desire," "landscape," "space," and "society" are interpreted by the artists' senses that are as distinctive as those of the conjuror.For the exhibition The Sixth Sense we take note of the fact that the 36 artists involved have their own unique methodology but share the same thoughts on life. We also try to maximize synergy among the many works for viewers to gauge that each artist conveys narratives of a similar scope but expresses them in ways of great diversity. We cannot place any limit on their works because their works include innumerable symbols and meanings outside the six topics. However, what's meaningful is that we can view of what these young artists try fiercely to portray and agonize over. The exhibition will serve as an opportunity for us to consider various aspects of our lives as we appreciate the narratives the artists present with their infinite inspiration and keen sixth sense.
Kim, Jiye (Curator)